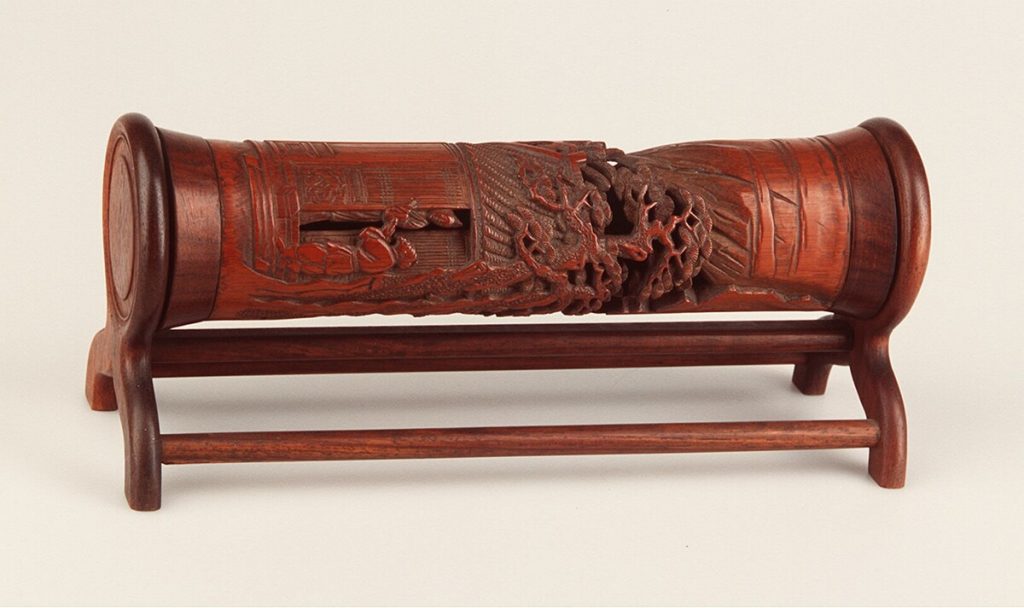 image: Roller: this carved roller on a stand is for viewing hand scroll paintings. The tube is closed on both sides with dark brown wood and rotates horizontally on a brown wooden base. Nationaal Museum van Wereldculturen, Netherlands – CC BY-SA via Europeana.
NMVW / WMR
The Nationaal Museum van Wereldculturen (NMVW) is an umbrella institution founded in 2014 that incorporates the formerly separate institutions: Tropenmuseum in Amsterdam, Museum Volkenkunde in Leiden, and the Afrika Museum in Berg en Dal, whose collections belong to the Dutch state. Since 2017, NMVW has a partnership with the Wereldmuseum in Rotterdam (WMR), whose collections belong to that city. Together these museums bring together the largest, most diverse and best collections of non-European art and material culture in the Netherlands, consisting of almost 450,000 objects and 750,000 images, including the most important anthropological material culture and photographic collection in the Netherlands. Overall, the collections highlight the intercultural nature of all cultures and periods, and presents a resource for all those interested to learn about history, cultural diversity and creativity. The museum is for – and about – people. NMVW believes that it is important to interpret the collections and understand historical processes in an open and critical way, in order to continue to build on the relevance of these world cultures collections in our custodianship, and to see their role in fostering understandings of citizenship in a global frame.
Chinese collections
The Chinese collections at NMVW and WMR consist of nearly 2000 images and over 20,000 objects, ranging from Shang dynasty oracle bones to contemporary art. Most of these continue to be housed in the repositories of the Museum Volkenkunde in Leiden, a precursor of which was founded in 1837 as one of the first academic ethnographic museums in the world. Museum Volkenkunde's initial collection consisted of objects acquired by the physician Philipp Franz von Siebold (1796-1866), mainly from Japan, but also China and Tibet. The earliest Chinese collection was ammased during the eighteenth century by lawyer Jean-Theodore Royer (1737-1807). Royer tried to study Chinese language and culture, for which he acquired hundreds of objects such as Chinese books, paintings, ceramics, scholar's objects, and clothing. Highlights include over 80 albums of watercolour paintings, of which at least a dozen can be dated to the mid-1770s. Another important early collection is that of Prof. Jan J. M. de Groot (1854-1921) who systematically collected religious and ritual artefacts during his fieldwork in Xiamen in the 1880s, later included in his ground-breaking publication The Religious System of China. The NMVW holds an outstanding collection of nineteenth- and twentieth- century paintings and calligraphy, many of which were acquired from Dutch sinologists such as Robert van Gulik and Erik Zürcher. Other noteworthy categories include export paintings on canvas and (reverse) glass, Yao religious paintings, Dongba manuscripts, numismatics, and over 500 prints dating from the 17th – 20th centuries in which there are a number of rare examples.
In the frame of PAGODE, a wealth of over 3.200 exquisite items in high resolution and open access were published on Europeana.
Digitalisation
NMVW/WMR has always invested in digitizing its collection and publishing its collection online. We strongly believe that it is important to share information about our collections as widely as possible and be transparent regarding our collecting practices. Nearly all the collection objects on our website have published metadata. Because of sensitivities regarding rights or the objects themselves, we sometimes need to limit the amount of data we can share or at times we are not able to share a digital image of the object. We currently have images for 92% of our collection. In the coming years we will be working on improving the quality for our images, developing machine learning pipelines for generating better metadata for our photographic collection, experimenting with 3D scanning, modelling and using storytelling applications and AR applications aimed at a more general audience as well as researchers. We will be working on further implementing Linked Open Data (LOD) techniques during the coming years. On our website we provide professionals with computer readable datasets about our collection as well as our Wereldculturen thesaurus.
Discover: https://collectie.wereldculturen.nl/
---
PAGODE – Europeana China is co-financed by the Connecting Europe Facility Programme of the European Union, under GA n. INEA/CEF/ICT/A2019/1931839