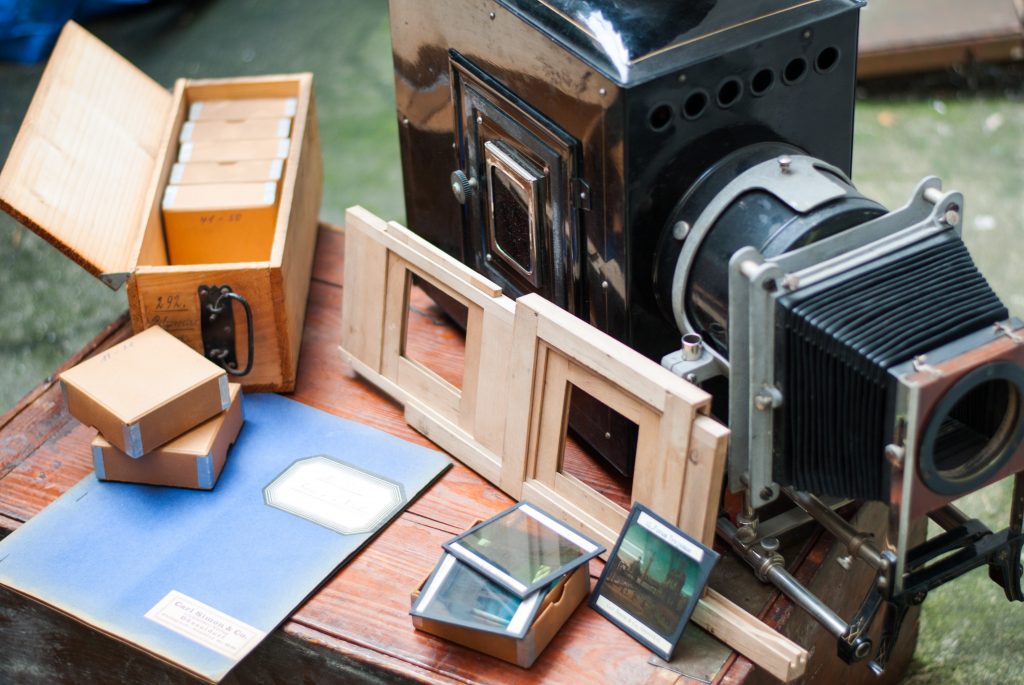 image of the original Carl Simon's projector and materials. Courtesy of United Archives. Photo Alex Wittmann.
With 10 press photo agency- and publisher archives, 13 photographer lifeworks and many more assets to our name, United Archives is today looking at a combined stock of several million images – and can say today, that these collections are united in United Archives. Many of UA's archives hold images which have a relationship to China: most of them are travel images, which show what was in the focus of tourists in the 1979ies, 1980ies and 1990ies or what professional travel photographers thought could be of interest for their picture agencies worldwide.
A small but highly peculiar collection with great historical interest is the lecture about China created by Carl Simon in the first half of the last century. We are sure that Carl Simon never visited China, nevertheless he created a lecture with about 80 hand colored glass slides, to show his audiences in the Germany of the early last century his ideas about Chinese culture, history and politics. The lecture was not precise or professionally curated, and for illustration purposes he also mixed images of Japan and China – this creating some inconsistencies which showed up only during the PAGODE – Europana China project: a curatorial mistake done about 100 years before.
---
As said above, Carl Simon somehow had these black and white glass slides coloured by his staff. The slides were arranged according to corresponding themes or countries and conserved into small wooden boxes. For these slide series we assume that he had teachers or historians involved to create the so-called "lecture booklets", in which every slide motif was individually described. He used to lend these wooden boxes with the hand-coloured slides to interested people, together with the lecture booklets and a slide projector, so to allow replication of the show. The slides were shown for example in the town hall or in a parish with the Dia projector and supplemented by the detailed lecture texts: in this way it was easy to tell exciting stories and present the appropriate pictures, thus recreating an educational and also entertaining event.
We have to imagine that at the beginning of the 20th century only a few people were able to travel to get to know other countries, their people and culture. For the others, all this was made possible by Carl Simon's visionary idea, which motivated him throughout his life. Unfortunately we do not know how he came to this large slide collection. Perhaps he got it from those early travellers who came back in Europe, or from photographers he knew. That will remain his secret: there are no more contemporary witnesses.
Next to Carl Simon's glass slides, the participation of United Archives in PAGODE was much larger, with over 3.900 beautiful photographs provided in Europeana with the highest standards of quality and completely open access.
---

PAGODE – Europeana China is co-financed by the Connecting Europe Facility Programme of the European Union, under GA n. INEA/CEF/ICT/A2019/1931839