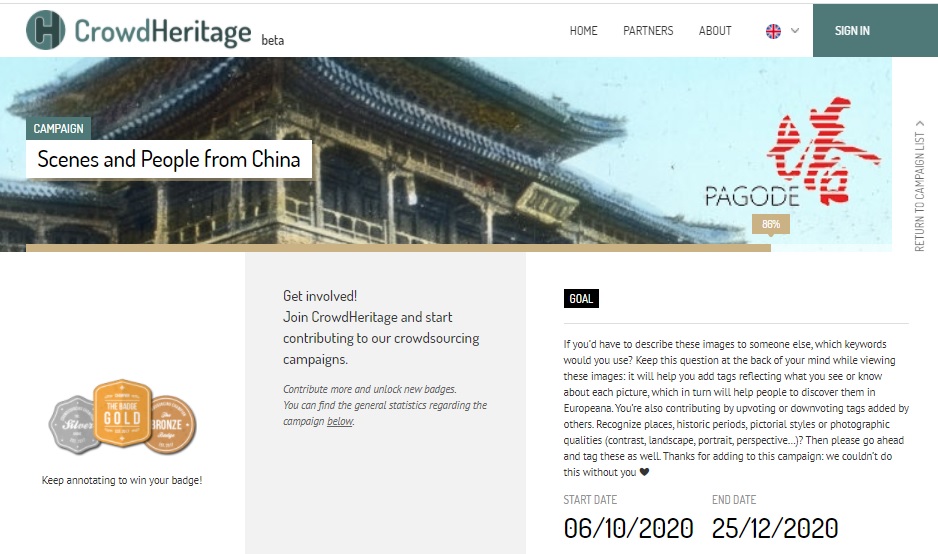 The Europeana portal gives access to about 60 million digital cultural heritage items of all sort, from thousands of cultural heritage institutions throughout Europe. Rich and descriptive information to be associated to the images is vital for making this digital cultural heritage meaningful and searchable by users. In the remits of PAGODE, we are committed to improve the information available on Europeana for a minimum of 2.000 digital records. To do this, we recently launched a crowdsourcing campaign that allows researchers, students and culture lovers join the effort of annotating and curating photographic materials about Chinese culture that are currently published in Europeana.
PAGODE's crowdsourcing campaign is accessible here: https://crowdheritage.eu/en/china
By using a very intuitive crowdsourcing platform, anyone can look at selected heritage photographs from Europeana and add descriptive tags to identify places, historic periods, pictorial styles or photographic qualities (contrast, landscape, portrait, perspective…). The annotations will then be fed back by PAGODE to Europeana to improve the information available.
The PAGODE crowdsourcing campaign is entitled "Scenes and People from China", currently comprising two volumes of images that offer a glimpse of life in China throughout the 20th century as well as portraits featuring people with Chinese roots or ancestors.
PAGODE – Europeana China is co-financed by the Connecting Europe Facility Programme of the European Union, under GA n. INEA/CEF/ICT/A2019/1931839